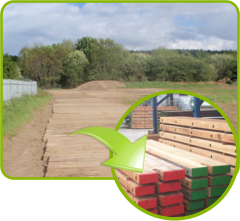 BogMatz – Timber Ground Protection Bog Mats
BogMatz are timber ground protection mats from Groundtrax. They provide solid access over boggy and wet ground conditions, reducing permanent damage to existing surfaces.
BogMatz timber mats are ideally suited for creating main road access into and through construction sites whilst limiting impact on the environment. BogMatz are used to spread heavy imposed loading, minimising hard surface damage, increasing stability and protecting sub-surface utility services. They are extremely strong; available in larger sizes to handle heavy loads.
When our timber bog mats are laid to construct a platform or access pad, plant and vehicles carrying heavy loads can travel on them effortlessly. BogMatz are not only a key requirement in a busy construction site on boggy or marshy land but they let your vehicles get exactly where they need to be.
Produced from either Oak or Tropical Hardwood and depending on the type of project, different wood types provide different choices. Oak is the most common choice, as it is very cost effective and if used correctly can last for years. BogMatz made from durable Tropical Hardwood can last for up to two decades.