CellPave HD
The Ultimate Truck-Grade, Heavy Duty Cellular Paving System from Groundtrax Systems Ltd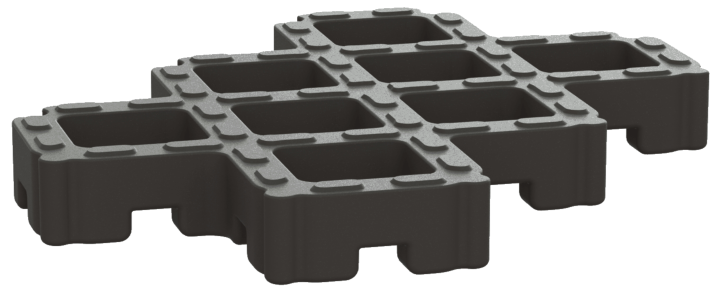 CellPave AP
Anchored Ground Reinforcement Paver
Competitive Prices - First Class Service
Ground Protection & Ground Reinforcement
Groundtrax offer the UK's most comprehensive range of ground protection and ground reinforcement systems – from pedestrian access through to roads, car parks and storage areas capable of taking the heaviest vehicle loads.
We offer temporary trackway systems for hire and sale, and a comprehensive range of products for SUDS compliant permanent installations.We are now the countries leading supplier of permeable paving products both with our own range of CellPave products and selected products from Terram, covering all applications from CellPave AP (a cost effective, simple roll-in grid), traditional cellular pavings grids CellPave 40 and 65, through to CellPave HD truck grade heavy duty pavers that offer an environmentally friendly alternative to traditional hard surfaced areas.
THE CELLPAVE PRODUCT RANGE
CellPave 65 - Heavy Grade Paving Grid
CellPave 65 heavy grade paving grids – the ideal solution for intensive car parking and HGV roadway access areas. A high strength, high specification product made in the UK.
Read More
GRASS & GROUND REINFORCEMENT SOLUTIONS
Looking for Fixing Pegs, Steel Pins, Joiners & Markers?
A full range of products to suit every situation
As the main UK Distributor for the PGI/Terram range (including products from Terram, Boddingtons and Fiberweb), we offer the best possible prices on TurfProtecta, GrassProtecta, BodPave (Bodpave 40 / Bodpave 85), TruckPave and Terram Geotextiles. So no matter whether you're looking to protect soft or muddy ground, reinforce existing overflow car parks, access routes, holiday park areas, verge stabilisation, golf-buggy paths, pedestrian walkways or soft ground access, Groundtrax Systems Ltd has the solution for you.
'No-Dig' Solutions
For those looking for a more permanent 'no-dig' solution, our CellPave AP ground reinforcement tiles are ideal and are easily installed with a vibratory roller or rammer. Alternatively, GrassProtecta is a heavy-duty polyethylene mesh which reinforces grassed areas prone to wear and smearing.
Trusted by the following clients: