GroundMatz  Ground Protection Mat
GroundMatz temporary roadway protection panels are a quick and affordable solution. With a unique anti-slip traction pattern, our panels will help prevent expensive damage and reinstatement costs to grassed or sensitive outside areas.
Our GroundMatz trackway panels are used daily throughout the UK across a wide range of industries including civil engineering, landscaping, golf course and sports field maintenance, holiday home parks, heritage and archaeological sites and a multitude of other applications. This enables more efficient and safer working conditions whilst at the same time promoting a more professional image to clients and customers.
NOTE: GroundMatz are not currently held in stock. Please see our alternative product IsoTrack L Mats – [Click HERE to view IsoTrack L Mats]
Product Features
Easily handled and laid by two men – size 2470mm x 1235mm x 14mm – weight 38Kg per panel – no need for expensive crane wagons
Not liable to be stolen from un-protected sites as our panels have virtually no scrap value
Lay as two parallel tracks, as a single roadway or link together to form parking or compound areas
Extremely durable to withstand vehicle weights up to 40 tonnes (dependant upon underlying ground bearing capacity)
Easily cleaned due to less aggressive lug pattern
Panels easily cut and drilled with normal woodworking tools
Link together with steel joiners. HD cable ties or plastic links. Use U joiners on sloping or cambered ground
Use over and over – lasts for many years – will outlast plywood many times over
Ideal for grass protection, ground protection, temporary roads, temporary car parks and compound areas
Tested in extremes of hot and cold climates
---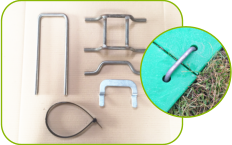 Single Steel Joiner £2.00/ea
Single panel joiner used when a more permanent access track is needed. These joiners are supplied in a bare metal finish.
Low Profile Single Joiner £1.50/ea
Single panel joiner with a low profile design used when a more permanent access track is needed. These joiners are supplied in a bare metal finish.
Double Steel Joiner £5.50/ea
Double joiner used to connect four panels together at the corners. Supplied in a bare metal finish. 

Steel 'U' Joiner £3.00/ea
Use when you are installing the panels on sloping ground to prevent the panels moving under load. Supplied in a bare metal finish. 

Pack 100 HD Cable Ties £20.00/pack
Extra heavy duty cable ties 580mm long. An economical way of joining panels together when steel joiners are not warranted. Can be fitted when the panels are in place on the ground – simply pull the ties tight and cut off the excess tail. 
[/vc_column][/vc_row]
[/vc_column][/vc_row]