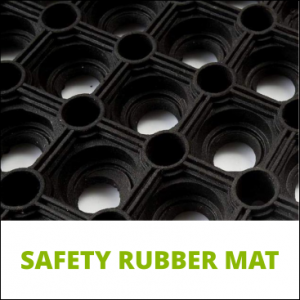 Safety Rubber Mat – Safety Rubber Matting
Safety Rubber Mat is an environmentally friendly, non-slip, impact absorbing safety and footway matting surface.
The safety rubber matting is ideal for children's play areas, playgrounds, most multi-function play frames, springers, swings, fitness/fun trails and pathways. The rubber safety mats are manufactured from recycled rubber and are easily installed on existing grass. The rubber safety matting is simply pegged to the ground, allowing the grass to grow through the mesh apertures creating a natural grass finish whilst offering the benefits of a safety surface beneath.
Playground rubber safety mats should be laid onto a ground stabilisation mesh to increase the ground reinforcement. The safety matting should be secured using plastic fixing pegs and the edges of the mats should be tied together using cable ties. Please check the suitability of this product prior to installation as the CFH figure will be affected by soil type, moisture and grass.
Product Benefits
Safety rubber mats have many benefits including:
Absorbs shock and noise
Critical fall height of 3 metres, tested by RAPRA
Tested to BS EN 1177:1998 3 Metre Critical Fall Height
Moulded non-slip cellular structure with excellent durability and comfort
Requires no special skills or tools allowing a quick and easy installation
No costly base works (as required for conventional tiles or wet pour)
Ideal for green field sites, disappears from view once turf has re-grown
Can be used on flat or contoured landscapes
Suitable for all weather, extreme temperatures and resists wind uplift
Large openings of 2.5cm diameter allow liquid and debris to drain, keeping surface dry and clean
Wheelchair and pushchair accessible
Purchase Safety Rubber Mat
ORDER UP TO 180 MATS ONLINE NOW
Need more than 180 mats – Volume discounts are available