The many holiday parks across the UK are often the sites that are most in need of grass protection and ground reinforcement.
Frequently subjected to high levels of traffic, the roads and parking areas at holiday parks can soon become rutted and unstable when the weather turns wet.
Through the use of Groundtrax roadways and ground reinforcement systems, you can protect your holiday park; ensuring that your guests enjoy a safe and hassle-free visit and that your site looks great all year round.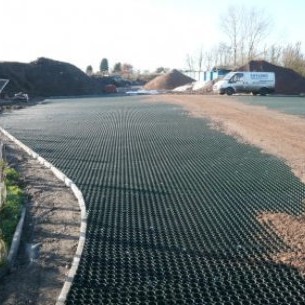 Camping Sites
With campers often only staying for a night or two before moving onto their next stop, camping sites have a high turnover of guests.  Every time a guest arrives or leaves the campsite surface is subjected to wear from vehicles, which can cause serious damage.  Our GrassProtecta ground reinforcement mesh is perfectly suited for such applications, offering ample support for light vehicles and pedestrian traffic.
Caravan Parks
Caravan sites are exposed to the same demands as camp sites in terms of the number of guests.  However, the size and weight of caravans means that the roadways and parking areas are subjected to an even greater amount of erosion – a problem that can be overcome through the installation of CellPave AP, a no-dig solution for grassed areas or BodPave 85, a plastic cellular paver that can be either back-filled with soil and seed or with gravel.
Woodland Holiday Villages
Many of the holiday villages throughout the UK are situated in woodland areas to add to the aesthetics of the surroundings.  This type of environment can however prove problematic during wet weather, with roads soon becoming rutted and turning to mud.  Both our GrassProtecta and CellPave AP are capable of providing a suitable solution to conditions typically found in woodland holiday villages.
Get more information on the products referenced on this page: