Holiday Parks
The many holiday parks across the UK are often the sites that are most in need of grass protection and ground reinforcement.
Frequently subjected to high levels of traffic, the roads and parking areas at holiday parks can soon become rutted and unstable when the weather turns wet.
Groundtrax offer a range of ground protection and reinforcement solutions to protect your holiday park, ensuring your guests enjoy a safe and hassle-free visit and that your site looks great all year round.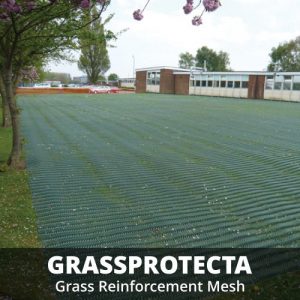 GrassProtecta – Grass Reinforcement Mesh
GrassProtecta grass reinforcement mesh is a heavy duty thick slip resistant polyethylene plastic mesh grid for reinforcing and protecting grassed surfaces prone to wear, rutting and smearing which can result in a muddy surface incapable of withstanding vehicular or pedestrian traffic applications. GrassProtecta is a great solution for low to medium traffic areas and where the ground is free-draining. Simply roll out across the area and pin down with our Steel U-Pins or if you prefer, you can use our plastic GRM Pegs.
More Information on GrassProtecta - Click Here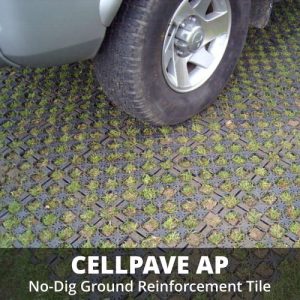 CellPave™ AP – No-Dig Ground Reinforcement Solution
CellPave™ AP from Groundtrax is a 'no-dig' anchored ground reinforcement paving tile. It is installed quickly and easily and it provides a cost-effective way of reinforcing existing grassed areas without the need for a sub-base. It is used extensively for car parking and to reinforce grassed aircraft runways and taxiways. The grids are a much stronger alternative to roll out meshes that are pinned into place as the grids themselves are vibrated into the ground with a vibratory roller.
More Information on CellPave AP - Click Here
CellPave™ 40 – Plastic Cellular Paving Grid
CellPave™ 40 grass and gravel pavers are a cellular paving grid system for grass and ground reinforcement applications where there is regular vehicle or pedestrian use. CellPave™ 40 permeable paving grids can be installed with either a grass or gravel filled surface and allow full rainwater penetration. Manufactured from UV stabilised 100% recycled HDPE, in black or green, CellPave™ 40 plastic pavers are strong, chemically inert & non-toxic, enabling them to provide a durable, safe & sustainable eco-friendly surface for trafficked areas.
The INDUSTRY STANDARD Cellular Paver with over 6.5 million grids supplied since production started in 2002.
More Information on CellPave 40 - Click Here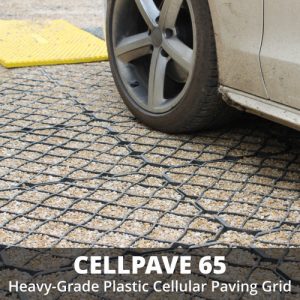 CellPave™ 65 – Heavy Duty Paving Grids
CellPave™ 65 heavy grade paving grids – the ideal solution for intensive car parking and HGV roadway access areas. A high strength, high specification product made in the UK. Capable of withstanding heavy loads, particularly when filled with gravel, CellPave™ 65 will promote healthy grass growth due to the extra depth of the paver. Channel cut-outs in the wall structure of CellPave™ 65 encourage root growth and also help to drain water efficiently from the grids.
More Information on CellPave 65 - Click Here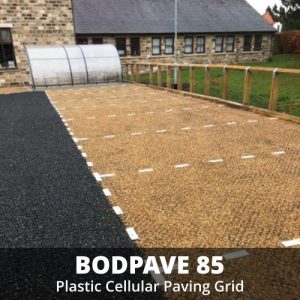 BodPave 85 – Plastic Cellular Paver
Bodpave 85 grass pavers / paving grids are a strong interlocking 100% recycled cellular porous plastic paving grid system for grass reinforcement, ground stabilisation & gravel retention for regular trafficked surfaces. Bodpave 85 porous pavers can be installed with either a grass or gravel filled surface. The permeable pavers are manufactured in the UK from UV Stabilised 100% recycled HDPE and are strong, chemically inert & non-toxic. Bodpave 85 porous paving provide a durable, safe and eco-friendly surface for trafficked areas.
More Information on BodPave 85 - Click Here

GroundMatz – Ground Protection Mats
GroundMatz temporary roadway protection panels are a quick and affordable solution. With a unique anti-slip traction pattern, our panels will help prevent expensive damage and reinstatement costs to grassed or sensitive outside areas. Our GroundMatz trackway panels are used daily throughout the UK across a wide range of industries including civil engineering, landscaping, golf course and sports field maintenance, holiday home parks, heritage and archaeological sites and a multitude of other applications. GroundMatz are ideal for providing extra protection to sensitive areas such as entrances to car parks.
More Information on GroundMatz - Click Here
Camping Sites
With campers often only staying for a night or two before moving onto their next stop, camping sites have a high turnover of guests.  Every time a guest arrives or leaves the campsite surface is subjected to wear from vehicles, which can cause serious damage.  Our GrassProtecta ground reinforcement mesh is perfectly suited for such applications, offering ample support for light vehicles and pedestrian traffic. For heavier traffic and entrance areas, our GroundMatz ground protection mats are ideally suited.
Caravan Parks
Caravan sites are exposed to the same demands as camp sites in terms of the number of guests.  However, the size and weight of caravans means that the roadways and parking areas are subjected to an even greater amount of erosion – a problem that can be overcome through the installation of CellPave AP, a no-dig solution for grassed areas or BodPave 85, a plastic cellular paver that can be either back-filled with soil and seed or with gravel.
Woodland Holiday Villages
Many of the holiday villages throughout the UK are situated in woodland areas to add to the aesthetics of the surroundings.  This type of environment can however prove problematic during wet weather, with roads soon becoming rutted and turning to mud. GrassProtecta, CellPave AP, CellPave 40, and BodPave 85 are all capable of providing a suitable solution to conditions typically found in woodland holiday villages.
Not sure? Get expert advice from Groundtrax by calling us on 03456 800008