Gripple Works
Gripple is a market leading manufacturer delivering time-saving simplicity and problem-solving innovation in Building Services, Seismic and Force Protection, Agriculture and Civil Construction. With partners around the world, Gripple is a globally recognised brand, synonymous with time, labour and CO2 saving solutions, outstanding technical support and innovation driven by employee ownership. Gripple offers a comprehensive solution for slope stability and erosion control, characterised by high quality products, designed and manufactured in-house, alongside on-site training and support delivered by a team of dedicated technical experts.
Terra-Lock™ System
Gripple's Terra-Lock™ System, in-use on sites around the world, is an innovative method of geotechnical engineering for heavy erosion and slope stability, delivering significant time and labour savings, immediate security and aiding vegetation growth.
The system is well suited but not limited to:

Creating sustainable and durable green structures by reinforcing nature, the Terra-Lock™ System is the innovative, next generation solution, designed to replace or work in conjunction with traditional methods of soil retention and slope stabilisation.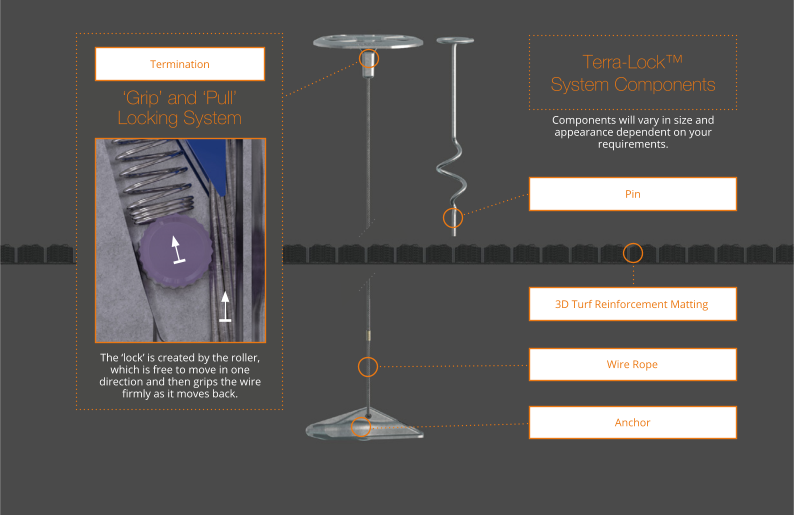 How It Works
The Terra-Lock™ System gains its stability by coupling key engineering principles with specifically designed products to successfully utilise the natural properties of on-site materials. Gripple's innovative 'grip' and 'pull' technology is complemented by anchor systems and TRM (Turf Reinforcement Matting) to deliver a comprehensive, trusted solution.
Water Management
Gripple's hydraulic design service ensures the correct TRM can be installed. The TRM reduces surface erosion from water and air, while its permeability prevents undermining of the structure. The Earth–Vegetation–TRM composite allows for a large increase in the allowable shear stresses from erosion which prevents excessive soil loss. The anchors then transfer shear forces deep into the ground to ensure a secure and stable system.
Installation
Drive:
Insert Drive Tool through the anchor and place against surface.
Use GPD to install the anchor at the required depth.
Lock:
Use JackJaw® to remove Drive Tool and load lock system.
Tip: For a neat and professional finish, use Gripple Wire Cutters to cut wire below grade if required.
Traditional Methods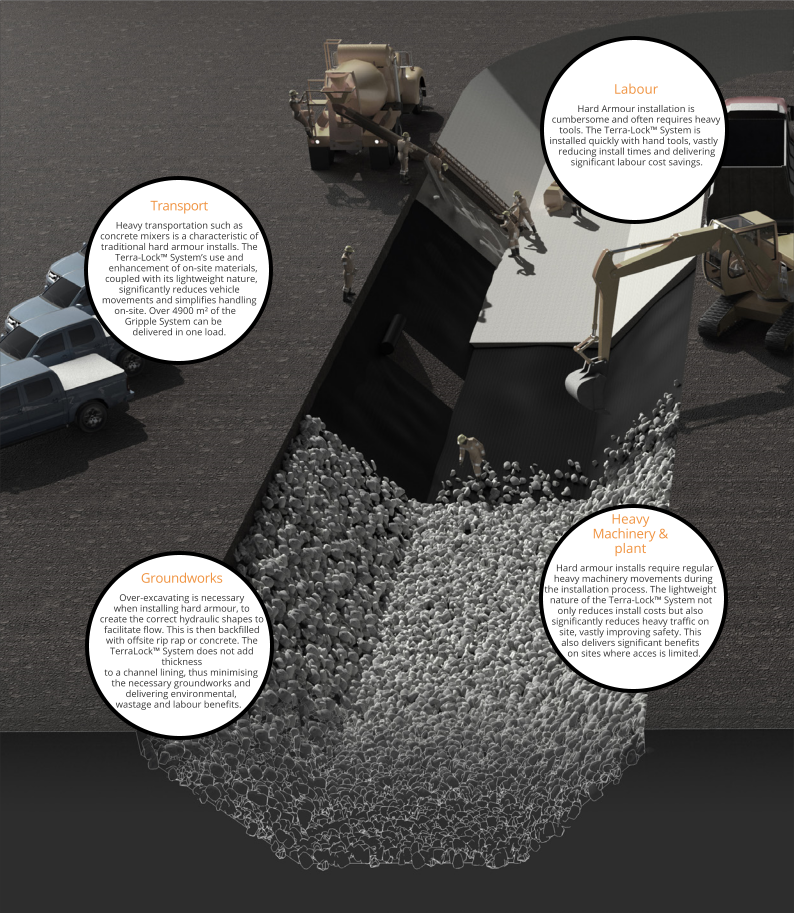 Greener with Gripple
System Benefits
Gripple's Terra-Lock™ System ensures considerable time, labour and consequently, cost savings, while delivering 'greener' structures. The solution offers many construction, engineering and environmental benefits when used near water or on slopes alone. The system reduces failure and importantly, flood risk by maintaining the engineered size and shape of water assets so they continue to function correctly.
Slow Flows
The use of vegetation in the Terra-Lock™ System can help control hydraulic flows, minimising scour and damage to other parts of the system.
Resilient
Reinforcing elements of the solution alongside the promotion of vegetation means the Terra-Lock™ System is essentially 'self-healing', delivery longevity to the install.
Sediment Control
Intimate contact with substrates retains soil particles, minimising erosion and downstream sedimentation.
Durable
Manufactured using corrosion resistant materials to ensure longevity.
Steepened Slopes
Allows slopes and embankments to be sharply angled, reducing groundworks and maximising use of space.

Lightweight
Easy to handle on site and adds minimal excess loads to the structure. Minimises settlement and subsidence, especially in poor soils.

Increased Factor of Safety
The installation depth of anchors is calculated based on engineering principles to guarantee the System locks into structurally sound soil.
Failure Prevention
The system actively holds the surface, locking it deep into the structure while catching and retaining surface failures.
Technical Surfaces
Gripple is committed to delivering the best value-engineered solution to site. Our team of dedicated engineers ensure all systems are fit for purpose and delivering immediate security. Our services include but are not limited to:
For more information visit www.groundtrax.com. For any technical services, including site visits, please call us on: +44 (0) 3456 800008.