If you are planning a large outdoor event then you will of course have to take into account the extra footfall that your ground will be subjected to.  In addition, you may also have to consider the ground erosion that may be caused by any vehicles or heavy pedestrian usage. Fortunately, Groundtrax have a range of ground protection options that are suitable for all manner of outdoor shows and events.
Our CellPave AP anchored tiles are a popular choice for such applications and offer a 'no-dig' solution in most instances.  Suitable for ground and grass reinforcement and with a load bearing capability of 100 tonnes/m2; these interlocking ground tiles can be installed easily with heavy duty wacker plates, vibratory rollers and rammers.
Where the show or event ground is likely to be subjected to traffic from larger vehicles, our CellPave AP is ideal.  This anchored ground reinforcement tile can cope with the weight of tractors, coaches, HGVs and other heavy vehicles.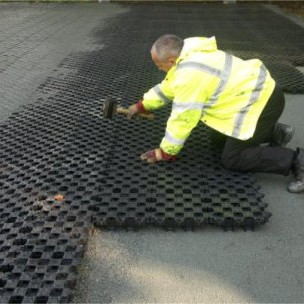 Equine Showgrounds
There are countless equine shows held across the UK which require the ground to be well reinforced in order to avoid the fields becoming muddy and rutted.  Our ground reinforcement tiles can protect the site ground from erosion, whilst providing a stable surface with grip that is suited to pedestrians, traffic and horses alike.
Concerts
Setting up a concert takes considerable planning and often involves the use of cranes and hoists to position the stage and lighting equipment.  In addition, the crowd attending the concert will result in heavy footfall on the ground and increased levels of weight in concentrated areas.  Ground reinforcement grids are suitable for walkways, roads, car parks and areas where people will gather; the ideal solution for all your concert ground protection needs.
Weddings
Outdoor weddings are becoming an increasingly popular choice as couples look to reduce venue costs.  In most cases this involves hosting the reception in a tent located on a field or other form of grassland.  Our ground reinforcement tiles provide the complete solution to ground protection at outdoor weddings; from roads and walkways, to a solid base on which to lay the dance floor.
Get more information on the products referenced on this page: