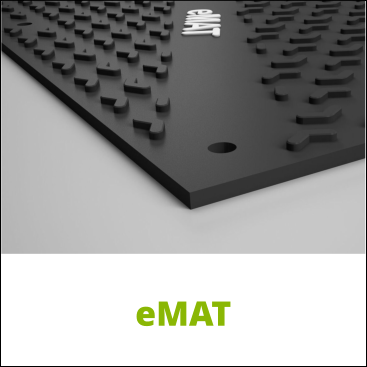 eMat – Medium Duty Ground Protection Mat
eMAT ground protection mats have been designed to provide safe and efficient ground protection. Quick and easy to install, with a unique anti-slip traction pattern, eMATs help to prevent expensive damage to grassed or sensitive areas.
PLEASE NOTE
The eMat has now been discontinued. You may wish to consider
IsoTrack L or GroundMatz
as alternatives.
eMAT has a more aggressive traffic pattern on one side and a lower profile pedestrian friendly pattern on the other.
Both sides are optimised to provide grip in all conditions and help to provide more efficient safer working conditions on site whilst at the same time promoting a professional image to your customers.
Each mat is 2410mm x 1200mm x 12mm and weighs 35Kg, featuring multiple hand cut-outs allowing for easy deployment by two men. The mats are made in Europe to the highest standards from high density polyethylene (HDPE) and a full range of joiner options are also available.
eMAT will flex to follow ground contours, allowing efficient weight dispersal typically for vehicles up to 30 tonnes (or 80 tonnes/m² on firm ground).
We can also offer options including company branding and logos on the mats, different colours – either the full mat or coloured strips at each end. These options are subject to quantities over 500 mats – please contact us for more details. We keep eMat mats in stock ready for immediate despatch or collection. We can deliver nationwide using our pallet distribution network or dedicated transport for full loads.
A wide range of connection options available
Single Steel Joiner (12mm round bar) – the most robust option but requires the mats to be lifted through 90 degrees to install. Available in uncoated or zinc plated finish.
2-Way (for track layouts) and 4-Way (for joining 4 mats in compound layouts). Made from a highly durable and flexible polymer. Can be slid under the mats and the connections are finished with an M10 bolt that fastens into the encapsulated fixing in the joiner
Flat Steel Joiner – A lower profile connector made from 3mm flat steel. Pushed in from above with the mats in position.
Steel U Pins – A 200mm long U profile ground spike. Use on side slopes to help prevent the mats from slipping sideways.
Heavy Duty Plastic Ties – Used if the mats are being installed on a solid surface as no protrusion below the surface of the mats.
Get a Purchase Quotation
Applications & Uses
Vehicular use across soft ground in either trackway or compound layouts
Temporary car park layouts
Pedestrian use at shows and events
Use on landscaping, construction and civil engineering sites
Protection of heritage and archaeological sites
Used extensively at golf courses and holiday home parks
In use daily at a multitude of other sites across the UK
Specifications
Material: High Density Break-proof Polyethylene (HDPE)
Size: 2410mm x 1200mm x 12mm
Weight: 35kg (max 30 mats per pallet when sent via our distribution network)
Surface Profile: Traffic/Pedestrian
Colour: Black
Load Bearing: 30t vehicles (80t/m²)